Julie Thompson, for the Spotlight on Friday, February 28, 2020
Wildflower Play Collective seeks to provide a playful resource for young children and parents
The children of Columbia County, and perhaps the parents at wit's end and out of local entertainment ideas to keep them busy, are one step closer to having an indoor/outdoor play space to gallivant.
WildFlower Play Collective, a startup nonprofit community center, just secured a lease to a new location at the old Tea Time space, located at 165 N. 11th St., St. Helens.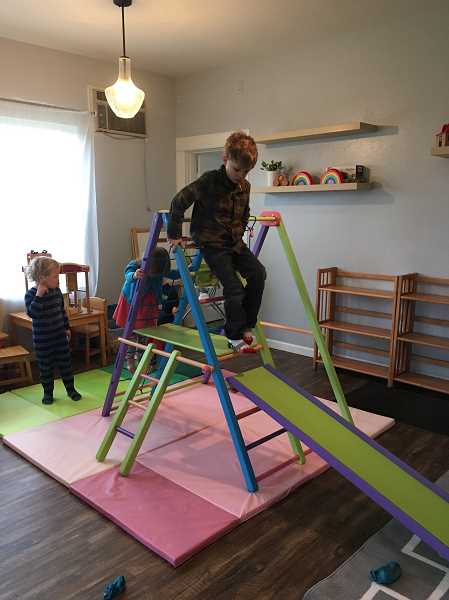 Co-founder and executive director, Emilia Ponti, describes the eventual play space like a children's museum; it's a community resource for parents to take their children when they need to get out of the house — someplace where kids can climb and play, rain or shine. There will be toys for children up to six years of age, like blocks, trains, play kitchens and climbing structures. There will be an infant room, a space for arts and crafts with plenty of playdough, and a sensory table. It will be a destination for its members to throw birthday parties and events. There will be studio space for dance, yoga and fitness classes for all ages.
Ponti is also working on a grant to launch a coworking space at the Collective so that parents have a place to work with on-site childcare based on a co-op model. For example, a parent would provide childcare and receive childcare in return.
Some parents may pay for this childcare, while others may opt for a work-trade option.
"That's our ideal model right now, but that will be slightly separate from the play space," Ponti said. "That model is after the existing St. Johns Swapnplay. They've been around 11 years and they're just beloved in their community. People that had memberships when their kids were little say things like, 'It saved my life.'"
The WildFlower Play Collective will be available to fit a parent's schedule. It will be accessible from 7 a.m. to 7 p.m. and members can drop by any time.
The membership-based program will be offered on a sliding scale, with weekend options for parents that work during the week. Members will have a keycode that allows them access to the building when they need it, a model which, Ponti said, pointing to Recess Collective in San Francisco, is taking off across the country.
The nonprofit received a grant for $25,000 in October from the Columbia Pacific Coordinated Care Organization, making them a part of the trauma-informed network the CCO has put together. The city of St. Helens also unanimously voted to waive the Collective's conditional use permit, which Ponti marked as a "sweet moment."
However, there is still some fundraising work to be done — specifically, for a new loft play structure.
"We are looking for some donations. Sherwin Williams donated paint. They were really wonderful," Ponti said. "We're all working really hard to make this a resource for the community. The point of it being membership-based is that people feel like it's theirs."